The Story So Far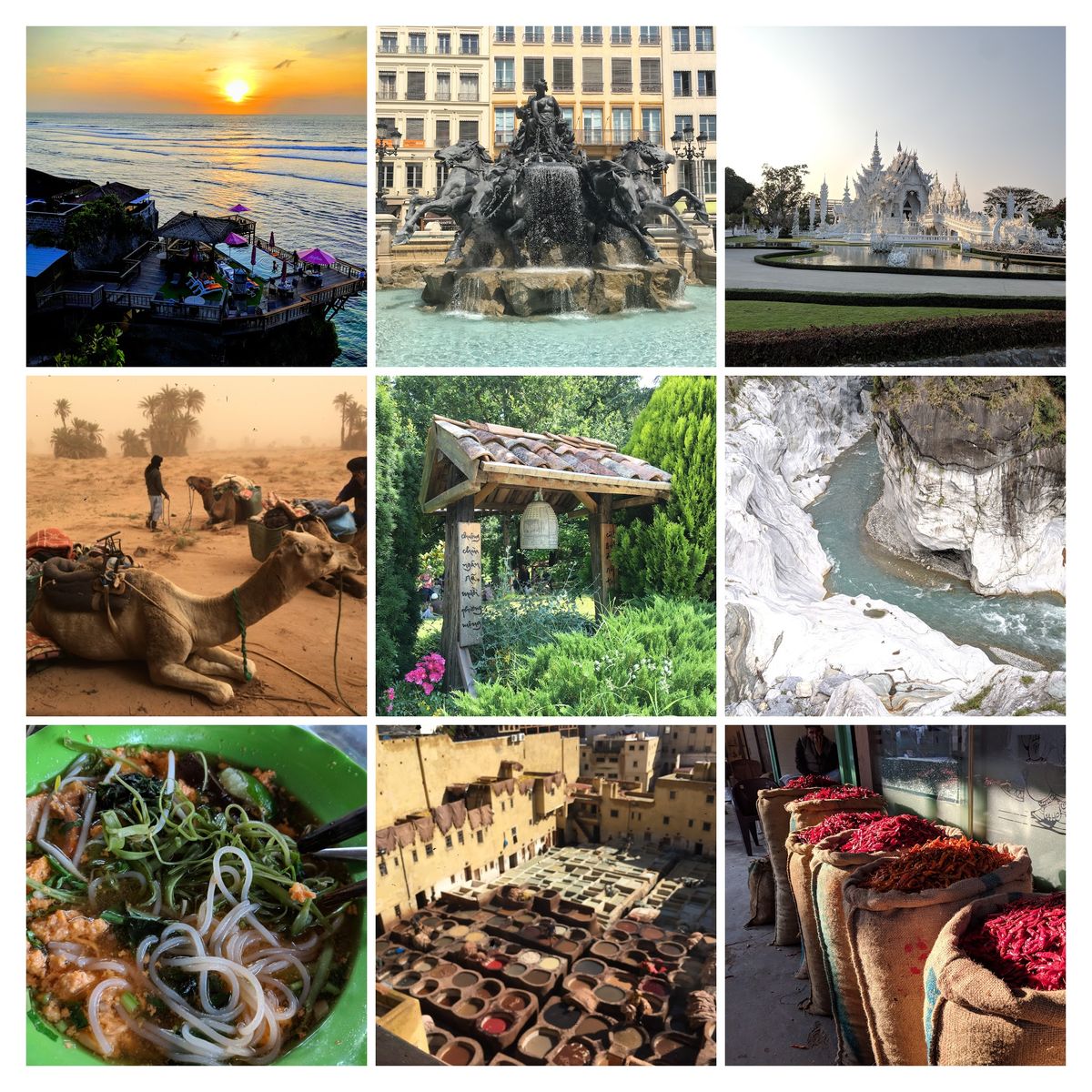 Sooo turns out I'm terrible at posting regular updates. Looks like I haven't written much since probably July of last year. I owe an honest apology to anyone who has been waiting expectantly month after month for… silence. And I owe a genuine thank you to everyone who has lovingly–or impatiently–nudged me to write more here. I suppose this post is going to be my repentance–sort of a reflection on everything that's happened since last July, and a little bit about where I am now and what I'm up to.
Buckle in, this is probably going to be a long read. So long, in fact, that I'm going to leave a summary and a table of contents for those without the time (or patience) to read everything:
Summary
The short version: since my last post in France, I've traveled through Morocco, Bali (Indonesia), India, back to Chiang Mai, and to Taipei, Taiwan. Things were rough for me in France and Morocco, but I've recovered since then and learned a little bit more about what I need in order to be happy, healthy, and productive. In my darker periods, I was fortunate to have a few consulting projects fall into my lap, and ended up consulting on various project nearly full-time for almost 6 months.
Consulting isn't what I set out to do, but it's been cool realizing that I can recreate the job I used to have in Silicon Valley on my own terms. What's more, the pay is usually good enough that I've been able to start funding my lifestyle with plenty of time leftover. I've gone from working full-time as a consultant to half-time, and now even less.
At my present burn rate, just a few consulting projects a year is likely enough to pay my annual expenses, and then some. Right now the rest of my time is spent on my own projects. Currently I'm working on a new project with two close location-independent friends. We're expecting to start beta testing the product in the next couple weeks. Between all the plates spinning in the air, things are busy enough that I've actually had to start turning prospective clients down. In short: work is going well. It's taken me longer than I expected to get to where I am now, but I'm excited to have found a potentially sustainable way to continue traveling and to have time to work on my own projects.
Geographically, I'm currently in Medellin, Colombia, though I'll be moving to Mexico City, Mexico very soon. I have a lot to say about Colombia now that I've lived here for almost 3 months–I expect I'll publish something about my experience here soon :).
Recap
So let's rewind: if you've read a few of the earlier posts here, you'll know that a little less than 2 years ago I was working in Silicon Valley for a relatively prestigious company called Palantir. By some metrics, I was set for life and could have simply continued to climb the Silicon Valley career ladder in comfort. Yet I found that I was deeply unhappy and unfulfilled with what I was doing despite ostensibly having it all. So in August 2017 I quit both to challenge myself and to challenge the fragile definition of success I had implicitly bought into. The plan was to build small, self-sustaining, and automate-able businesses using my existing skillset as a software engineer, with the hope of 1) learning from repeated failures as much as I could in a short time span and 2) in the ideal case, eventually find a product or business that would stick well enough to generate the revenue required for me to win back my time (i.e. ~$2000-5000/mo in relatively passive income). I had about a year of runway saved up at the time, and figured that would be enough time to work something out.
Pre-Travel
After quitting I spent about 6 months at home with my parents in San Diego slowly acclimating to self-employed life. To be honest, this was a hard time. I knew to expect it, but my initial enthusiasm inevitably gave way to anxiety. It turns out that after over 2 decades of schooling followed by a full-time job it's not the most simple thing to transition to completely managing yourself. I was surprised by how much I initially struggled with this, especially since I've always been very independent and extremely self-disciplined. I had such high expectations for myself to crush it that in the early moments when I realized I was definitely not crushing it I made myself feel awful for it. For obvious reasons this led to even less crushing it.
So 6 months passed, and I managed not to release a single product of my own. I did end up doing a few other things in that time, however. For example, I intentionally got rejected a lot, and for a little while I wrote some so-so weekly articles here on this blog. I also wrote a lot of foundational code for a library that I have ended up using for a couple of client projects. Oh, and fairly importantly, I took on my first consulting project building a prototype for a friend's nascent startup. (The company was called Sain Health and we were building software to improve post-operation outcomes for hospital outpatients. The founder has since moved on to bigger and better things.)
Then, in February 2018, having still not really figured out how to run my own businesses, I left the United States. I had been reading about the trend of people traveling around the world who worked from wherever they chose to, and was naturally drawn to the idea. I also had a desire to live abroad and learn a number of foreign languages, so I already knew I would eventually leave the States when I quit my job.
My first stop was Chiang Mai, Thailand, in February 2018. To be honest this was also initially a hard time. I still remember moments of extreme anxiety my first week in Thailand where I asked myself just what in the actually fuck I was doing there and why I had thrown away so much of my existing comfort and security for a life of who knows what the fuck I'd find. It got so bad at one point that I remember literally getting online to search for a therapist only to realize that I wasn't sure I was willing to spend my precious runway to talk to one.
Things got better, of course, and, though I didn't realize how important this was at the time, I was extremely fortunate to not be alone in Thailand. Prior to making the jump to Thailand, I had gotten in touch with an alumni from my college fraternity who also turned out to be headed to Thailand with his then girlfriend (now wife). Hilariously, I had only ever talked to him on the phone before showing up on his doorstep in Thailand to rent their extra room. I now count the two of them among my closest friends, and have crossed paths with them again a few times since we parted ways in Chiang Mai. Their presence plus the continued financial stability of my first consulting contract combined to make Thailand a very positive experience for me overall. And so, by the end of the month, much of my initial anxiety had given way to excitement and enthusiasm to have the privilege to live my life on the road.
In March I moved to Saigon (aka Ho Chi Minh City) in Vietnam. I had an unexpectedly spectacular experience in Vietnam, likely owing largely to the fact that I fell head-over-heels in love with a beautiful and intelligent Vietnamese woman. I never expected that I'd find the next love of my life while traveling, but I suppose life has its own plans sometimes. Anyway, what was supposed to be a single month in Saigon turned into two when I eventually decided to cancel my plans to move to Penang, Malaysia (again, mostly motivated by my then budding relationship, though I probably would have denied it if you had asked me at the time).
Saigon was a definite highlight in my early adventure: the food was delicious, I found community at a good coworking space, and I was in love. While there I wrapped up my first consulting project and finally got back to work on my own projects, though I didn't release anything.
Return to the States
After two months in Saigon, it was finally time to go back to the States for the month of May to watch my little sister graduate from NYU. I spent a bit of time on both coasts. I picked up a motorcycle license in California. I planned a trip to Yosemite to reunite with many of my Bay Area friends. I went camping and spelunking with a close friend in Pennsylvania. The focus was really on spending time with friends and family, so work was once again put on hold.
During much of this time I was long distance with my girlfriend in Vietnam. Toward the end of my shore leave, she dropped a bomb on me that ended our relationship and left me pretty emotionally shaken. At this point, I'm more than capable of talking about what happened, but it's a long story that a few sentences won't do justice to. That one will have to wait, sorry :P.
At the end of May, at long last, I flew across the Atlantic to France, the one place I had actually really pictured visiting when I started traveling. (I mostly started in Asia because, as a spoiled Southern Californian, I wasn't sure I'd survive a European winter.) I was driven by the dream of learning French and eventually going to Le Cordon Bleu for culinary school. It was also one of my annual goals to visit Plum Village near Bordeaux, France as part of an effort to deepen my mindfulness and meditation practice.
I landed in Marseille, a port city in the south of France with a bit of a seedy reputation. Marseille is a rougher city, for sure, but I actually really like it there. It isn't nearly as clean or as orderly as most of the other large European cities I've been to, but what it lacks in splendor it makes up for in character–the walls along the streets would often be covered with colorful graffiti murals.
I eventually went on a 2-week long road trip with a few good friends from the States. There were lots of fun moments getting stuck or stalling out inconveniently while getting used to driving a stick as I drove all the way from Lyon on the eastern side of France, through Dijon, up to Paris, out to Mont Saint-Michel, and back to Paris.
From Paris, I took a train to Bordeaux closer to the Western coast of France, where I spent a few weeks before and after my 2 weeks at Plum Village. Of everywhere I went in France, Bordeaux was probably my favorite city–beautiful architecture, lots of gorgeous public spaces, and a shimmering river that cuts through the city's center.
When I came back from Plum Village, I bought a bus ticket to Lyon, often hailed as the gastronomic capital of France. I got a deal on a nice apartment in a lively area and spent my last 6 weeks there, occasionally splurging on expensive Michelin-rated meals. (For the record, my favorite restaurant in Lyon actually wasn't any of the 1- or 2-star Michelin restaurants I ate at, but instead an up and coming restaurant called La Bijouterie.)
France was actually really tough for me. When I arrived in Marseille, I barely spoke the language, I was still reeling from breaking up with my Vietnamese girlfriend, and I was staying in this very strange AirBnB situation where it seemed like my host would kick himself out onto the couch so that he could advertise his bedroom as a private room for guests.
I honestly didn't make many friends in France, and I started to experience social isolation for the first time. I also felt poor for the first time, since I wasn't making any income and prices in Europe were at least 2 to 3 times what I had been paying in Asia. There were a lot of moments in France when fear and self-doubt crept back in, and I resumed asking myself if I had torpedoed my career for nothing. I'm not hugely superstitious, but on one of my darkest days I remember having two people reach out to me on the same day to see if I'd be willing to take on some new consulting work. It almost felt like someone knew I needed help to get back on track.
Needless to say, I said yes to the consulting gigs, again at the expense of working on my own projects. I worked on a small project for the Robin Hood Army, built a website for my sister as a graduation gift, and starting working on the first version of I'm With Them. Along the way, I picked up another client building productivity software for a professional services firm in Hong Kong.
I didn't intend for it to happen, but consulting for various clients turned into my full-time profession for awhile after that. It was reassuring to me to realize that my career was far from over just because I left Silicon Valley, and I found that it was much easier for me to be super self-accountable when I knew I wanted to impress my clients with my skills. It wasn't what I had set out to do, but I learned that I could re-create my job in Silicon Valley on my own terms.
The New Stuff
Now we're more-or-less caught-up to the last time I posted a real update. Since then I've spent 3 months in Morocco, a month in Bali, a month in India, a month back in Chiang Mai, almost 4 months in Taiwan, and am now writing from Medellín, Colombia. There's still a lot of ground to cover.
Morocco
After 3 months in France, my visa finally ran out at the end of August. (As a US citizen, a standard tourist visa gives me 90 days out of every 180 in the Schengen Area, which covers pretty much all of Western Europe.) I moved to Morocco, thinking that it was the nearest non-Schengen French-speaking country, and vaguely recalling that a friend had long ago joked with me about moving our startup to Morocco to extend our runway.
Marrakesh
My first stop in Morocco was Marrakesh, where I spent 2 weeks. Speaking candidly, I hated Marrakesh and my time there left a bad taste in my mouth toward both Morocco and Moroccan people that took weeks to go away. The best way I can describe Marrakesh is as the living image of what Moroccans think Westerners think Arabian Nights should look like. In my humble opinion, the city has completely sold its soul to tourism, which makes up the majority of the local economy. I'm sure it's not actually all Marrakeshi people, but most of the locals you'll meet in the streets give you in the impression that you're a walking money bag–they want your money, and they have no qualms about lying to you or scamming you to get it. Given the maze-like streets and markets in Marrakesh, an extremely common tactic is to tell foreigners that streets are closed so they get even more lost and confused and ultimately pay for assistance. Most of these offers for assistance are phrased as a friendly favor, not as a service being sold for cash, so you'll often feel confused when they flip and pressure you to compensate them for their time. Additionally, unlike most mature tourist economies, many vendors in Marrakesh give off a distinctive sense of entitlement–nowhere else in the world have I heard a street food vendor go so quickly from trying to hard sell you on buying his food to cussing you out in every language he knows simply because you weren't interested in what he had to offer.
Marrakesh was also the first city where I felt actively unsafe and on edge, despite having spent time in a lot of places that other people might not consider totally safe–Ho Chi Minh City or Marseille, for example. It's awful, but I often tell people that my time in Marrakesh has given me more empathy for what it's probably like to be a woman in today's world. It was incredibly uncomfortable to feel like a target every time I'd walk around in public, and like everyone I met secretly or not so secretly wanted something from me. It was scary to feel like people might get aggressive if I did not or could not give them what they wanted.
Essaouira
All of this is to say that I was positively relieved to leave Marrakesh for Essaouira, another touristy town, this time on the coast. Essaouira is a beautiful walled city, once occupied by the Portuguese. Some people may actually recognize Essaouira as the set for Astapor in Game of Thrones.
For 5 weeks, I lived in a huge, beautiful apartment with a rooftop ocean view. Calm and relaxing with the sound of crashing waves and the occasional sea breeze, Essaouira was a welcome contrast to the hustle and bustle of Marrakesh. Gradually, I began to let my guard down and opened myself up to experiencing a different side of Morocco and its people.
I had other challenges in Essaouira, however, chief among them being a lack of community. The sense of social isolation that had begun in France deepened severely here, as I began to realize that my only potential friends were either locals, who I had trouble communicating with and relating to, and extremely transient tourists typically just passing through Essaouira for a couple of days. The closest things I had to friends were the staff at my favorite spots for breakfast and dinner. My loneliness was compounded by the void left by my ex-girlfriend, a wound which was still healing at the time, and which had been opened again by some recent communication with her. At times, I felt depressed and struggled harder than ever to keep myself focused and motivated. I spent a lot of time cooped up in my apartment, usually only leaving for breakfast, dinner, and the occasional coastal sunset.
Despite everything, when my AirBnB lease ended, I didn't want to leave. For the first time in a long time, I had no idea where I was going next, and the uncertainty daunted me. I would almost have rathered the certainty of my notably dreary existence in Essaouira to the effort of facing the uncertainty and figuring out what to do next. Given my experience in Morocco up to this point, I might have considered leaving the country, but I had been talking to one of my clients in Hong Kong about the possibly of flying me out there to work on site for a month as part of my next contract with him. Not knowing yet whether or not that was going to pan out and the hope that if it did it would cover the long flight back out to Asia left me feeling kind of trapped in Morocco.
Taghazout
When I finally pulled myself together, I decided to move further down the coast to Taghazout, a touristy little surf town so small that you actually have to take a taxi to the next town over to find an ATM (and, of course, cash was king in Taghazout regardless). Though I grew up in San Diego and surfed when I was younger, I'm not actually much of a surfer these days, which should leave any reasonable person wondering why the hell I moved myself to a middle-of-nowhere surf town. The answer is that Taghazout is also the home to a reasonably well-known coworking and coliving spaces called SunDesk, which I wanted to try thinking that it might solve my isolation problem.
Fortunately, it did. While I have a lot of gripes about Taghazout as a place and am not honestly sure I'd go back, the community at SunDesk was wonderful–I got to know a lot of people pretty well, and was relieved to have interesting people to spend my meals, evenings, and weekends with.
While in Taghazout, I finally decided to stop waiting for my client to potentially send me to Asia, and instead bought a ticket to meet my sister in Bali, where she planned to do Yoga teacher training. With my dates set, I got serious about finishing my sightseeing rounds in Morocco, especially because I had a feeling I'd never be back.
Sahara Dessert, Fez, Chefchaouen, Tangier
Before leaving Morocco, I had a chance to spend almost a full week trekking in the Sahara Desert, which was an awesome experience. I went to the desert in Zagora, to the south, where the desert covers more area and the terrain is more varied. As we trekked, the scenes changed from a stony dryness to a fine-grained sand, and, finally, to a sea of sand dunes as far as the eye could see.
I made good friends with my guides, and we passed the time trading words in English, French, and Arabic. At night we would gather around the fire and enjoy a bowl of harira, a hearty, tomato-based soup that still makes my mouth water to think about.
The climax of my dessert experience was Erg Chegaga, a huge, nearly quarter-mile high sand dune that feels like a small mountain of sand.
I also ventured north to Fez, Chefchaouen, and Tangier before boarding my flight to Bali.
I actually really enjoyed Fez. It felt like it had all of the trappings, culture, and attractions of Marrakesh, but with an overall cleaner and safer vibe. Unlike Marrakesh, tour guides and vendors in Fez were very respectful and professional. Many of them seemed almost aware of Marrakesh's horrible practices and would almost go out of their way to leave the opposite impression. If I could do it again, I would have spent more time in Fez and next to no time in Marrakesh. It was, however, super cold in Fez–much colder than I had ever expected any part of Morocco to be–and my wardrobe was not prepared for it.
Chefchaouen, famous for its distinctive blue streets, was another highlight for me. The town was very, very touristy, and I was given the distinct impression that they simply continue to re-paint the walls blue to continue attracting foreigners, but the vibe was calm and relaxing, much like Essaouira but up in the mountains instead of by the sea. I had the opportunity to go on some spectacular hikes in the nearby mountains of Akchour.
Tangier was a strange but interesting place. As the northern-most major Moroccan city, Tangier is a sea-side gateway to Europe, and the influence is obvious. However, since Morocco isn't a terribly wealthy country, there was often a kind of funny juxtaposition of classic-though-poorly-maintained European architecture and a sense of poverty and squalor common to countries in the developing world. It was cool to see, but I'm not upset that I didn't have much more than a night in Tangier.
Reflections
I can't claim to have had the best experience in Morocco overall, but living there did challenge me in some interesting ways.
This was my first experience living in a pre-dominantly Muslim country so it took time to get used to things like the call to prayer from all of the nearby mosques. I was also surprised by how deeply religious and conservative the local culture is, and how much that seemed to dictate social norms. Many countries can point to a major religion as foundational to their predominant culture, but most of the time that influence feels more in the background at this point–you can find it if you go looking for it, but aside from the occasional temple, church, or shrine, you won't constantly be reminded of it. In Morocco, on the other hand, religion feels very much in the foreground. I left with the impression that no sane Moroccan would ever be caught admitting to being anything other than a very devout Muslim. The rare secular Moroccan locals that I befriended confessed to me that they likely wouldn't admit their atheism even to some of their close Moroccan friends. One friend even recounted for me how he had to hide the sounds, smells, and sights of his cooking during Ramadan–normally a time of ritual fasting–to avoid being persecuted by the local authorities for disobeying religion custom.
Morocco was also my first time visiting a country with a culture so different from my own that it was difficult for me to relate to people or predict their behavior. As an Asian-American, I feel pretty comfortable in stereotypically Western countries where my own Western upbringing can help me relate, and I also feel pretty comfortable in Asia where my loosely Chinese upbringing (thanks, Mom!) helps me to understand cultural values. But in a place like Morocco, where much of the local culture and values are derived from Islam, a religion and philosophy I haven't spent much time with, I occasionally felt like I just couldn't fathom what was going through peoples' heads. Sometimes I think this cultural divide contributed to my feelings of unease or indignation in certain situations. Unlike in Asia where most places I go people assume I'm a local and likely treat me better for it, I always stuck out like a sore thumb in Morocco. Being so conscious of being different certainly put me more on the defensive. I now wonder if this is what my Europeans friends experience in, e.g. Vietnam, where they feel hyper aware of and hyper sensitive to being scammed in any way.
I doubt I'll make a special trip to return to Morocco, but that doesn't mean Morocco doesn't have many great things worth seeing and experiencing! In particular, I've come away with a huge appreciation for Moroccan cuisine. Many of their dishes are an absolutely ingenious merger of sweet and savory flavors. For example, pastilla, one of my absolute favorites, is kind of like a perfectly spiced puff-pastry Moroccan chicken pot pie topped with cinnamon and powdered sugar. It sounds strange at first, but is absolutely amazing when executed correctly. Additionally, despite some of my initial impressions, I met quite a few Moroccan people who blew me away with their kindness and cheer.
Bali, Indonesia
It hadn't really been my intention to return to Asia in 2018. After things broke down with my Vietnamese ex, I had this funny idea that she could have the continent for awhile, and that I'd instead head to South America. Part of me admittedly worried that I wouldn't have the strength and good sense to stay away, despite lingering feelings of pain and disappointment.
My sister talked me down, though, and lured by the prospect of traveling with her for a little while as well as the possibility of traveling in India with our parents, I boarded a plane to Bali, Indonesia in mid-November.
In the ~month I spent in Bali, I spent about 2 weeks in Canggu, about a week in Uluwatu, and another week in Ubud. It was all a bit of a whirlwind as I moved around with my sister a little more frequently than I'm accustomed to. I also had a major client deadline to launch I'm With Them in December/January, so I was working quite a bit between obligations to sightsee and spend quality time with my sister.
Overall, I enjoyed Bali–the cost of living is fairly low, there are plenty of cool things to see and do, and there are lots of other nomads. There's a strong subculture in Bali centered around things like yoga, spiritualism, and health–not exactly my typical crowd, personally, but still cool all the same.
For those who like to surf, Canggu and Uluwatu on the coasts have a number of popular spots, with beaches often either walking distance or a short motorbike away. Ubud, more in the center of the island, has good access to a lot of cool nature spots and some of the more famous views of Bali's rice terraces. I can particularly personally recommend a sunrise volcano hike up to the top of Mt. Batur.
Particularly relevant to a young, eligible bachelor, there are also a lot of single nomad women in Bali, which was a surprise because my experience so far had taught me that the nomad scene is predominantly dudes with the occasional woman traveling with her long-term boyfriend. It sort of makes sense–solo traveling isn't as common for women as it is for men due to safety concerns, so one can reasonably expect there to be fewer nomad women as well. In some ways it felt like all of the single nomad women that ever existed had somehow conspired to congregate in Bali.
It was also awesome to spend time with my sister, though she and I would occasionally argue over travel styles–by then I was pretty tired and fairly content to see or not see whatever, and she would sometimes become frustrated with my lack of strong enthusiasm or opinion. She and I have always been close, and particularly after my more recent spouts of isolation in France and Morocco, it was nice to have a constant companion.
Bali did, however, feel kind of overrun with expats and foreigners. Many of the major destinations had a very gentrified feeling to them, creating a tangible privilege gap. It's hard to know what to feel when you talk to hard-working Balinese business owners who want to travel, but have to literally save for a decade to afford even a shoe-string vacation to somewhere like Europe. Where is the fairness in that? What have we done to deserve what so many will never be able to afford? And what must it be like to serve people everyday who take privileges like these for granted?
India
After Bali, my sister and I flew into New Delhi, India, in early December to meet our parents for 3.5 weeks of sightseeing in India. I won't say much in detail about this, but this was essentially all time off for the holidays. While I got to see a lot of really cool sites in India, I have to say that I really didn't enjoy the experience of being a full-time tourist for so long. I've become rather accustomed to my typical mode of travel–long stints of time in one place, with most of the sightseeing spread out over the occasional weekend. It's ironic because, as my sister is quick to remind me, I used to very much be the type to "maximize" every minute in a new place. My mentality now is a lot more… relaxed. I don't feel nearly as scarce about my vacation days or about my ability to return to places I'd like to see again as I used to. These days I would prefer learning what it's like to live my life, embedding in the local culture, and establishing a routine in a new place over checking tourist sites off of a list as efficiently as I can.
I know visiting India for the first time is a life- and perspective-changing experience for many people, but I didn't really feel that way myself. Perhaps it's simply because our itinerary mostly took us through tourist traps, or perhaps it's because I've seen and experienced enough at this point that the perspective-enhancing returns are diminishing. That said, here are a couple surprising (though shallow) learnings from India:
Contrary to my previous stereotype that all Indians love super spicy food, most Northern Indians don't seem to actually eat spicy (at least, not in the hot sense) and will even actively shun spicy food. I couldn't find a spicy option at virtually any restaurant I ate at.
From many of my tour guides, I learned that the food we typically think of as Indian in America is actually Mughlai, heavily influenced by the Mongol conquerers of India.
After nearly a month of sightseeing, things really started to blur together, but some of my favorite memories were:
Trying Jalebi, one of my new favorite simple desserts :d
Visiting the Taj Mahal.
Visiting the kitchen of a Jain temple where they produce thousands (maybe more?) of free meals during every service.
Spending a day on a house boat in Kerala, in the south of India.
Watching the local Keralan custom of burning an effigy of an old man to ring in the new year. (The figure looks a little like Santa Clause, but I think is meant to just represent leaving the past year behind.)
Chiang Mai, Thailand (Reprise)
Coming back from India, I was kind of sick of sightseeing and feeling very ready to get back to work. One of my clients had finally given me a definite launch date for I'm With Them, and I knew that January was going to be busy a month getting everything ready. I had also previously planned to meet two close friends (my original roommates back in Chiang Mai the first time!) in Taipei early February, so I only had a month wherever I went next.
I chose to return to Chiang Mai because a few friends were there already (community? check), and because I knew exactly what I was going to get. My sister decided to tag along for a couple weeks, not totally sure where she was going to travel next before returning to the States.
I hit the ground running in Thailand and worked pretty long hours to support the big product lunch. At one point, I had to switch to a nocturnal schedule to be sure I'd be awake during Pacific business hours in case anything spontaneously combusted. Most of my time was spent in my favorite spots to work, like Nine One Coffee, Barisotel, and Camp. Occasionally I'd get away long enough for a session training Muay Thai or to take my sister, who had come with me after India, to one of Chiang Mai's many night markets.
I didn't have much time for anything other than work in Chiang Mai this time around, which was fine since I'd seen most of the things I wanted to see the first time I came. I did visit Chiang Rai, another popular town in northern Thailand with a few famous temples and art emplacements. I also executed my first legit border run by driving a motorbike north to the Burmese border and crossing for lunch in another country before walking back across to Thailand.
Taipei, Taiwan
In February, I moved to Taiwan for ~4 months with the intentions of:
Improving my Mandarin Chinese
Better understanding my cultural roots
Reconnecting with extended family abroad
Much of the recountable history on both sides of my family traces back to Taiwan. My mother was actually born in Taipei, Taiwan's capital, and lived there for about 7 years before immigrating to the States. Ironically, despite not speaking a word of English when she got here, my mother went on to become an editor, and then a marketing executive. Despite the best efforts of my English teachers growing up, I learned pretty much everything I know about writing and communication from my immigrant mother–you'd never guess her first language wasn't English.
My maternal grandfather was a well-respected Taiwanese businessman. He owned a successful import/export business, but lost much of his wealth after moving his family to the States. Through my grandfather, my mother's family counts Terry Guo, the founder of Foxconn and one of the richest men in Taiwan, as a family friend. Apparently Terry Guo's father worked for my grandfather in some capacity, and my grandfather always went out of his way to help him and his family.
On my father's side, both of my grandparents emigrated from Taiwan to the States. My grandfather's grandfather was a man named Qiu Fengjia (丘逢甲). During the First Sino-Japanese War, the Chinese Empire ceded the island of Taiwan to the Japanese, but there were many Chinese nationals that weren't willing to give up Taiwan so easily. Qiu Fengjia was a leader in the resistance movement against the Japanese, and became the Vice-President of an independent Taiwan that existed briefly in 1895 before the resistance was crushed. Taiwan was occupied by the Japanese for about 50 years after that, ending only after Taiwan was returned to China when Japan surrendered at the end of World War II. I've never been able to learn much about my great great grandfather on my own, but he apparently appears in Taiwanese history books and even has a university named after him in Taichung. I gave a talk to a group of high school students while I was in Taiwan recently, and when I mentioned my relation to Qiu Fengjia in order to help introduce myself the whole room went up in excited ooh's and ah's–a much larger reaction than I would have expected for what seems like a fairly minor historical figure.
Anyway, the last time I had been to Taiwan was in 2015, shortly after graduating from college. I remember loving my trip, but feeling a strong cultural disconnect–like there was so much more I should be able to understand and experience in this place that I simply couldn't because my Chinese was nowhere near up to par. I wanted to feel like I could belong in Taiwan because I knew some of my recent ancestors were so in love with it, but I couldn't help but feel like a complete outsider. I think it was probably after and because of that trip that learning Chinese started consistently appearing in my annual goals.
My Chinese is still a work in progress, but I learned a lot, and I had a fantastic time in Taiwan this time around. So fantastic, in fact, that I've already loosely blocked out 3 months out of each year to return to Taipei.
Particularly from a nomad's perspective, Taipei is truly a magical place. For a developed, first-world capital city, Taipei is shockingly affordable–I paid $600/mo for a private room and shower in one of the most centrally-located parts of the city, and I probably could have gotten the same for cheaper. The food scene in Taiwan is amazing and also very affordable–the night markets are world-class, and you can find an array of Chinese, Taiwanese, and Japanese delicacies pretty much everywhere you go, often for as cheap as $3-5 for a meal. There's a good amount of English in Taipei, but it can be hard to get around if you don't speak some Chinese. That said, people in Taiwan are super friendly. I often like to joke that if you get lost in Taiwan, not only will someone patiently help you find your way, they'll probably also give you a puppy. Ok, they're not quite that nice, but seriously, of all the places I've been, I've probably felt the safest in Taiwan, and that owes largely to how friendly, hospitable, trustworthy, and honorable the average person is there.
Because I had been to Taiwan, and because I knew very quickly that I would be definitely be back, and soon, I didn't actually spend that much time exploring in Taiwan. There's a lot of spectacular nature, and amazing mountain hiking that I'd still really love to do in Taiwan, but most of my time there was spent working hard towards my goals–launching projects, growing my business, learning Chinese, getting in shape, etc.–or hanging out with friends. I'd say my life was pretty normal, and pretty average, and I honestly found it really nice.
While in Taiwan, I signed a new contract with an existing client, and finally started having about half of my time available to work on my own projects. Using everything I've learned in the last 2 years from numerous client projects, I've started working on the next iteration of Serenity. I'm going to nerd out for a few seconds here, but I'm really excited about the technology I'm working with right now–I'm experimenting with efficient workflows for simultaneously building for both web and mobile to see if it's possible to quickly get to market with both (Serenity, particularly, requires at least a small mobile component in order to compete with existing solutions). Things are going pretty well, though I invested a lot of the time while I was in Taiwan into my tooling rather than features. While in Taiwan I also started working on a project for nomads with two close nomadic friends. The projects been evolving, and has turned into something we're calling Tribe. I'll describe it in greater detail soon.
Where Am I Now?
I'm down in Medellin, Colombia, where I've been living for almost the last 3 months. I'll be moving again soon, this time to Mexico City, Mexico, where I'm also hoping to spend about 3 months. Mostly, I've been working on my Spanish, learning to salsa dance, and working a crap ton. In the coming weeks, I'm hoping to launch a beta version of Tribe. Ideally by the end of September, we'll launch an MVP and see if it sticks.
I've got a lot to say about Colombia, but it's going to have to wait until next time. (Not too long, though, I promise!!)
Why Haven't I Been Writing More?
I imagine that some people have it in their heads that I'm constantly traveling, exploring, and adventuring–that my life consists of tromping through jungles or wrestling sharks or seducing beautiful and exotic women (I don't know, whatever passes for your probably overly masculine ideal of adventure these days). At least, this is the impression I sometimes get from my friends and family who always seem surprised to hear that, yes, I do actually still work and, no, even though I technically could take way more time off than the average individual, I usually don't because I still have my own professional goals and priorities to focus on, too.
The truth is often my daily life is pretty mundane, and on average I'm quite happy with that. I recently spent almost 4 months in Taipei, Taiwan and often when people would ask me what I'd had a chance to see since coming to Taiwan I'd have to say that mostly I spent my time in the same two or three rooms, eating more-or-less the same two or three meals. I'd work during the day, go the gym, hang out with friends in the evening. On weekends I'd go hiking, read a book, play some video games, or cook a fun meal at home to share. In short I was just… living my life the way most people would do just about anywhere else.
At first, I felt almost ashamed and embarrassed that I hadn't been on the grand adventure I knew people were expecting me to tell them about. Given time though, I realized that I'm pretty happy right where I am doing exactly what I'm doing despite the relatively unremarkable repetition. Perhaps that by itself is a pretty remarkable thing, especially given that that certainly hasn't been true everywhere I've been. As a wise friend once commented, if our lives are mostly made up of average, unremarkable days, then maybe the best we can hope for is to make our average, unremarkable days as fulfilling as they can be.
All of this is to say that I don't always have so much to say about my travels so sometimes I struggle with what to write. I tend to prefer to err on the side of silence rather than monotonous repetition.
I'm already planning my next post about Colombia and I'm hoping it'll include a narrative of my impressions, as well as a breakdown of my lifestyle, routine, and budget–I've started tracking it more closely so I can start doing this in each country!–and, if I work hard at it, maybe a quick plug for a few new projects I'm working on. So I'll be back again soon, once I feel that there's another complete chapter to write about. In the meantime, if you got down this far and you enjoy reading my musings, please consider subscribing to my email list both to be the first to hear about my next post, and to remind me that there may actually be people waiting around for it. I'd also love some feedback! In the comments below, please take some time to tell me: what aspects of these posts do you find most interesting? What do you want more of?