Greece Day 1: Arrival in Athens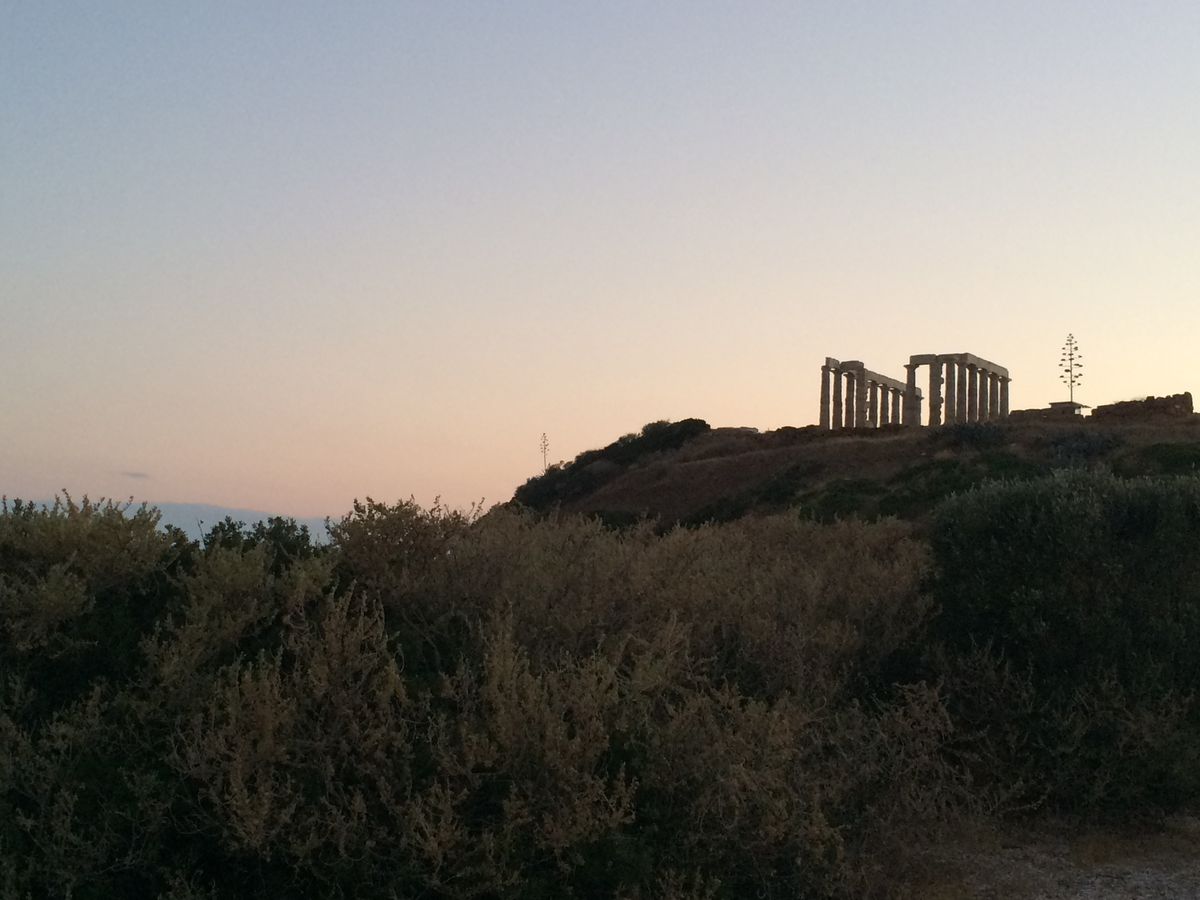 Today after countless hazily remembered hours on airplanes and in airports, I fulfilled my lifelong desire to visit Greece! I grew up reading books about Greek and Roman mythology and fell so in love with the tales that I decided to study Latin for 4 years in middle school and high school. Having read the Aeneid in Latin and having studied The Odyssey in school, I've always wanted to travel to Greece where I imagined that the culture, history, and mythology described in those works would come alive.
My family and I are vacationing in Greece for about two weeks–the first family vacation we have had in a very long time since. I've decided to keep a travel journal of my adventures here.
Our first flight leg was to Houston, where our connecting flight was delayed a full hour. Our next leg was to Munich, where we missed our connection due to that delay and had to wait several hours for the next flight to Athens. I had been determined to sleep at the proper time to get a full night's sleep on Athens time, but failed to grab more than 4 hours worth of edgy winks on the plane. Little naps throughout the day have helped keep me energized, but jet lagged despite my best efforts.
In Munich I had my first European meal of the trip! I found a little German place and quickly recognized Leberkäse, a bologna-like meat that I fell in love with during my very brief stay in Berlin two Spring Break's ago. Pairing that with an interesting-looking dessert and a German beer (which, much to my disappointment, turned out to taste a lot like Bud Light) I headed eagerly to the register to pay for my feast. Unsurprisingly, it put me right to sleep afterwards.
Before I knew it, we were boarding our next flight to Athens. Despite several espressos and a few mochas, I succumbed to the urge to take a "20 minute" nap on the plane as we pushed off from the gate. When I awoke, there were only 20 minutes left in the flight… close enough.
Once we landed in Athens, we took a taxi to an apartment about 30 minutes away. Our route was disappointingly dreary, but I was grateful for a hot shower and a nice place to stay once we arrived.
Two of my mother's coworkers in Greece welcomed us by driving us 40 minutes to the ruins of the Temple of Poseidon at Cape Sounion. We drove along the Greek coast the entire way as the sun set behind the hills in the background. We arrived too late to watch the sunset from the temple or to go into the protected area of the temple, but the drive and the view nearby were breathtaking by themselves.
We stopped for dinner at Ilias Fish Tavern, situated on a cliff just beneath the temple. The sun had already set, but we could imagine the beautiful scene the sun's rays would have cast on the small bay beneath us. We had all kinds of interesting Greek food: marinated sardines, saganaki (fried cheese, which is sometimes served on fire at flashy Greek restaurants back home), tsipouro (a pomace brandy which tastes a lot like vodka), fava beans, eggplant hummus, Greek greens and salads, and a couple of grilled fish served with a delectable olive oil sauce.
Over dinner, my mother's coworkers told us some of the mythology behind the Temple of Poseidon in Athens. In mythical times, Athens paid annual tribute to the Minoans by sending young boys and young girls to be eaten by the infamous Minotaur. To put an end to this, Theseus, son of King Aegeus, went along with the tribute with the intention of killing the Minotaur. Upon return, Theseus and his sailors were instructed to hoist a white sail if they had succeeded in slaying the Minotaur or a black sail if they had not. Despite his victory, Theseus forgot to hoist the white sail and sailed home with a black sail raised. Upon seeing the sail, King Aegeus flung himself off a high cliff into the sea out of grief. The sea has since carried his name: the Aegean Sea. The Temple of Poseidon was erected to honor King Aegeus and mark the site of his suicide.
All-in-all, despite jet lag it's been a pretty awesome start to an exciting adventure in Greece :). Looking forward to more tomorrow!