First Income, September Reflection, and October Planning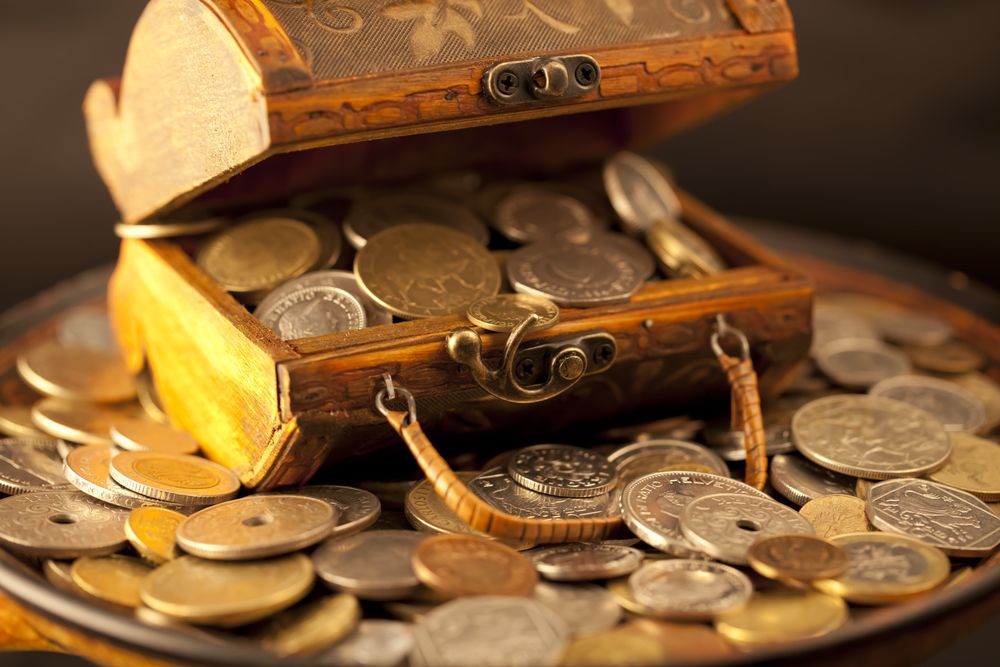 The three weeks I had of September weren't quite as productive as I'd hoped, but I did make my first $0.68 from Amazon Affiliate links, and I nevertheless learned quite a bit about digital marketing, how to run a blog, and how to keep myself efficient, motivated, and productive. Blog analytics suggest that people are actually engaging with the content I'm publishing, but I have some early concerns that the Amazon Affiliate model may not work long-term. In October, I'll be committing to fewer, but more focused goals, and ideally applying my learnings from September forward to make them happen. I'll primarily be focused on new content for my blog, boosting search rankings for my blog, and validating/implementing Strive, my first software product.
September Reflection
Milestones Reached
First income, however small, from a monetization tactic on my blog.

I made $0.68 from Amazon Affiliate links! This happened in my second week of self-employment, though the trend has unfortunately not continued week over week so far. My mother also jokingly remarked that I'd save $0.68 in a month if I just remembered to turn the lights off in the bathroom. Still, I remain optimistic that as the amount of content and links on my blog grows, and as readership numbers increase that I'll start getting some more significant signal as to whether or not this will work.
Blog Metrics
Google Analytics
408 unique users and 568 sessions.

There were two large anomalies, however: I got a strangely large number of views during the late evening hours from Canada one day that I still can't explain, and I accidentally messed with the metrics by hitting the site with

Google Pagespeed Insights

over and over one day.

Regardless, this number is beyond my immediate social media influence, which indicates that my social media cross marketing strategies are working a bit, and that a few people have helped me out by sharing my posts.

36.8% bounce rate (A "bounce" is when a user visits a webpage and then leaves without browsing any other pages on the same site. It's usually a good indication that people either got there by accident or weren't interested, though it's important to analyze this along with session length.)

This is likely heavily skewed by the two anomalies mentioned above.

Average session duration of 3 minutes 32 seconds.

This is likely heavily skewed by the two anomalies mentioned above.

There's about an even split between desktop users (55.6%) and mobile users (43.3%), so I need to make sure I keep checking that content works well on mobile.

The overwhelming majority of my users came from the United States (72.9%). The next closest country was… Ukraine (?!) at 11.8%.

Ukraine showing up here seems pretty sketchy. Either my writing has really caught on over there, or someone's probably trying to do something malicious to my blog. Since the Ukraine traffic is relatively new in the last 7 days, perhaps it's possible that the Ukrainian readers came for the language learning post? Otherwise, I really need to double-check my site security measures…

Post Popularity

The most popular posts were:

Relative post popularity suggests that the more philosophical topics like Emotional Inertia are so far less popular than practically applicable topics like how to learn languages. That or Sundays are really poor days to post blog posts (Emotional Inertia was published on a Sunday–all other posts on a Monday). I find this result a bit disappointing, and intend to keep playing with it–the philosophical posts are the ones that I actually really spend a lot of time and thought on.

Average time on page for each of the posts suggests that, on average people actually read through the entire post with the exception of Going Rogue, which on had an average time on page of 4:41.

This is actually really encouraging–the average time on page for the monstrous

How Busy People Learn Languages

post was a whopping 29:13, suggesting people actually found the post valuable enough to spend that much time on it. That, or a crapton of people just left their browser window open and walked away haha.

Acquisition

47.5% of my traffic came from social media channels with a 21.13% bounce rate.

Facebook accounts for 72.31% of all new social media users and had a pretty low bounce rate of 16.10%.

Reddit was surprisingly the second most successful social channel with 19.49% of new social media users, but had a pretty high bounce rate of 42.50%

This suggests that my efforts to cross promote on Reddit are working, but that I might not be hitting the right communities with my content, or that my content is just naturally a lot more interesting to people who know me personally (probably currently true, and something I'll need to fix if this is to keep growing).

Twitter did surprisingly poorly as a social channel, bringing in only 3 new users despite having received a retweet from a fairly large influencer in the language learning space.

43.8% of traffic came from directly inputting my website into the browser's address bar.

I find this pretty suspicious, but it's also

pretty unclear what actually constitutes direct traffic

. I have a sneaking suspicious that either a bunch of these are somehow me, or there's something going on here I don't understand. I'll have to monitor this number in the coming months to see how it trends.
Amazon Affiliates
37 link clicks at a 10.81% conversion rate

There was a spike of 21 clicks on September 29th that I can't explain and looks seriously suspicious, though. Before this, the highest number of clicks in a single day was 3, and none of these clicks seem to have turned into conversions.

2 items shipped for a total of $0.68.

Both items were Kindle e-books.

Surprisingly, there weren't that many affiliate link clicks and

no

conversions after publishing

How Busy People Learn Languages

, which I admittedly wrote in part because the first item that made any earnings here was a copy of

Fluent Forever

(affiliate link). Ironically, since an average page view time of ~30 mins suggests people actually read the entire post, perhaps I did too good a job of explaining my methods and people didn't feel there was much added benefit to buying either of the books? I'm going to choose to be proud of this rather than take advantage by purposefully limiting how much I say in future posts, but this is concerning because it does suggest that the affiliate link strategy may not work long-term.
Done
Monetize my blog.

Sell software to solve problems I have or am very knowledgeable about.

Read

Give: The Ultimate Guide to Using Facebook Advertising to Generate More Leads, More Clients, and Massive ROI

(affiliate link).

This ended up being less of a book about Facebook Ads, and more about marketing in the digital age in a social media context. Had some great points, which I hope to take to heart and test against other approaches.

Set up an account on Google Adwords.

This surprisingly and unfortunately ended up requiring a full hour on the phone with an agent.

Did some general research on

what user stories are, why they're helpful, and how to write good ones

.

This will help me to focus my product vision on important user outcomes.

Strive, the platform for setting and achieving goals.

Did some research on the space of existing visioning exercises, and started experimenting with running visioning exercises with people I know.

Did some research on the existing psychological research behind goal setting.

Started building a

test marketing website

for Strive, but unfortunately did not complete it, and have not yet launched ads to test its performance.

Development

Bought a new laptop, and got my development environment running on it.

Spoke with a friend about her experience with due diligence in the growth equity and consulting industries.

This conversation gave me some insights into how to think about new potential markets and product opportunities.

Spoke with a friend about experiences with consumer products, consumer marketing, and consumer growth, and reached out to a few of my networks to learn more about these topics from friends who have experience with them.

Applied and got approved for a

Chase Ink Business Preferred

credit card, which, with its sign-up bonus and 3 points per $1 on things like online advertising, travel, Internet, and phone services, will help support my ability to live and work abroad in the near future.

Researched merchant bank accounts

and came to the conclusion that I should definitely start with third-party payment processors like

Stripe

and

PayPal

. These typically have higher processing fees, but no monthly fee to hold the account open. They're also much less of a hassle to set up and start using.
Not Done
Did not tackle low-hanging fruit for putting my blog out there (e.g. popular blog boards, etc.)

Completed 0 full iterations of a test marketing site for Strive. Made it

part way through an iteration

, but not finished to the point where I'm ready to launch ads for it yet.

Did not get to any serious development work on Strive.

Did not complete or scope out work for login functionality.

Did not complete basic execution functionality.

Did not finish migrating away from SquareSpace for test marketing websites.
Why didn't these things get done?
I think primarily there was a failure to maximize my energy against my time in a way that kept me moving in the right direction along multiple types of work streams. In particular, most of what I didn't get done this cycle is engineering work, which seems to have gotten dropped in favor of time to write and time to read. Part of this was waiting for my new laptop to arrive, as I expected to be doing most of my development work on it, part of this was also being overly cautious not to fall into the typical engineer's trap of building before selling or designing a product, and part of this was just not blocking out time for it.
I ended up a little overcommitted, and since the activation energy to start writing or start reading was lower than getting back into engineering work, I chose not to start the engineering work. At a certain point toward the end of a few weeks, I ended up in emergency/disaster mode for writing and had to spend all of my time working on blog posts, even during times of day when the energy would have been better spent on something else (there were a few afternoons of staring at a blank or partially finished blog post going "derrrr"–writing is usually a morning affair for me).
Learnings
Make Sleep Hygiene a Priority
I lost a day or two of productive time to not having gotten the sleep I needed and then not being able to translate a very limited amount of energy into outcomes. Sleep hygiene seems especially important when there isn't external pressure which might force me to push through moments of extremely low energy or work on very small amounts of sleep. Getting myself into more of a regular sleep schedule has helped mitigate the risk that time and energy are wasted.
Wake Up With a Plan
You know that "lazy Saturday" feeling? The one you get when you wake up late on a Saturday morning without a real plan for how the day is going to go and you just kind of lounge your way through the day lackadaisically? It's great on a weekend, but it turns out when you're self-employed, you can get this feeling pretty much any day of the week if you're not careful. When I worked for a company, I always at least loosely knew what other people were expecting from me the next day, and the structure and routine of my day was already loosely dictated for me: wake up by 8am, get to the office by 9am, work for most of the day, go home, lather, rinse, repeat.
As a self-employed individual, I find that if I don't explicitly add structure to my day and a sense of what I need to do tomorrow so that I have a mission when I wake up, it can be easy to be lazy about getting my day started and moving. This usually means setting today's priorities the night before and at least figuring out what the first thing I'm going to do in the morning is and when I plan to get started.
Optimize Energy for Different Task Types by Scheduling Chunks of Time Proactively
Primarily, I'm finding that my work now falls into three categories: writing/planning, reading/researching, and engineering/implementation. I found that without specifically and proactively chunking out time to do each of these at the right points every day, I'd naturally gravitate toward the easiest tasks to do–usually in the reading/researching category–at the risk of starving everything else.
I've started to get in the habit of actively chunking out 1-2 hour blocks of time on my calendar the night before to give my day structure ahead of time based on my stated priorities, and to make sure that I get a little bit of each thing done at the right time each day. For example, I now make sure the first hour or two of productive work every day is spent writing since I tend to get into flow with my ideas early in the morning when I feel like I have all the time and space in the world to think and play with the phrasings. Engineering work is well-suited for pretty much any other time, since when I really get into working on a problem I can get caught-up in it for hours. Reading makes a good after-lunch break, or something to mix in with blocks of engineering time so I don't get burnt out of any single thing.
Over-committing Leads to a Lack of Focus
I found that when I over-committed myself in a given week that I'd actually end up a lot less productive than if I had given myself fewer, but more focused priorities. In the absence of this focus, I think I instead get a feeling of constant behind-ness no matter what I do, which often creates a counterproductive sense of stress rather than a helpful sense of flow. I've started to get in the habit of giving myself fewer, but more focused priorities for a given week, usually giving myself about as much or a little less than I think I can actually do, then setting a couple of stretch goals for myself. This works because things almost always take longer than expected, but if they don't I get to build momentum around feeling like I made some stretch goals happen!
Be Wary of the Urge to Constantly Check Metrics and Social Media
One of the things I actually hate most about trying to seriously run a blog is how much more I have to engage with social media in order to cultivate outreach channels for ideas and content on my blog that I actually feel really passionate about and want people to read. I'm finding that it can get really easy to mindlessly check the blog's metrics throughout the day and when I wake up, especially in the couple of days after publishing a new post. Additionally, I know that likes, reactions, and comments by people on social media are important in order for news feed algorithms to show my content to more people, but I really don't like how fixated this can make me on social media or on the opinions and reactions of others. In fact, in general I think social media can be a very negative influence on people's psyches since it encourages a fixation on what other people think rather than rewarding people for authenticity and vulnerability.
Both for my mental health and for my productivity, this is something I think I need to be very careful about, and short of making sure I'm responsive to people who comment and that I'm monitoring for potential problems with my blog, I think it would make sense to get into more of a regimented routine on this. For example, perhaps I only check once a day in the morning, and only really spend a significant amount of time analyzing the data and extracting insights once a week.
Keep Calm and Make Room for Time Off
Especially in a self-employed environment, I think it's really important not to put too much stress and pressure on myself. That absolutely doesn't mean I shouldn't work hard, but it does mean that I should be careful about getting into a mentality where I don't let myself take breaks, or expect myself to work every weekend, or always work late into the night. These kinds of things are exactly what I think creates a toxic culture in typical work environments, and I think if I'm not careful I can actually accidentally recreate that sort of toxic culture for myself.
This week, I almost pushed to finish the marketing website for Strive over this last weekend of September, but thought better of devoting my entire weekend to the task rather than giving myself a day or two to actually have no obligations, take care of some important personal life matters, and just plain recharge a little bit. I think there will be a time and place for grinding work out over weekends and during late night sessions, but killing myself just to meet a very arbitrary deadline which I clearly missed because I planned poorly the days and weeks before, seems like a very short path to burning myself out. Instead of doing this, I decided I'd make sure to really spend time to reflecting so I understood why I failed to have time for everything I wanted to get done and re-calibrate so that I don't make the same mistakes on the next run.
October Planning
Priorities:
Write a new blog post each week.

Complete the test marketing website for Strive, and start running ad campaigns to validate the idea and its framing.

Make significant progress on the MVP for Strive.

Define user stories for each component of Strive.

Determine the MVP feature scope.

Implement MVP features for the execution component of Strive.

Read more about the psychological field of

goal-setting theory

so I can pull research-backed ideas into Strive.

Bring Chiubaka.com to the top of obvious search ranking key terms like my name and "Chiubaka."

Stretch: Continue talking to people in my network about their experience with consumer product marketing and growth.
Though I made my first few cents of income through my blog, it's still too early to tell if the blog is going to work as an income stream. Nevertheless, the actual cost to run the blog so far isn't much more than ~$10/mo, so other than the time it takes me to write the blog posts, which isn't insignificant, it's pretty cheap to keep running as an experiment. I'd therefore like to make it a priority to continue writing content for my blog. I'd also like to make it a priority to explore organic growth channels, which means I need to step up my SEO game and improve my blog's search rankings.
Project-wise, I have a couple of immediate priorities, which include finishing the test marketing website for Strive so I can begin to collect data about the viability of the idea, and then to start actually implementing Strive. My actual MVP deadline for Strive is likely to be mid-November, so I have about 6 weeks to get something up. This is likely to take the majority of my time this month, and if for no other reason than that it helps me build momentum around project implementation, it's likely to be time well-spent, even in absence of initial validation of the idea. Since one of my hopes is to make Strive a research-based project, however, I'll also need to carve out a bit of time to continue reading about the psychological field of goal-setting theory. As a stretch, I'd like to continue talking to people in my network about their experience with consumer product marketing and growth, to help inform my strategy going forward.
* * *
If you're enjoying following along as I figure out how to life on my own, please consider liking this post on social media, sharing it with your friends, and becoming an email subscriber to be the first to hear about new posts!
Further Reading
Disclaimer: As an Amazon affiliate I make a small percentage of the sale of the books below, all of which were mentioned in this post.
Give turned out to be more than just a book about Facebook advertisement. Give took me through how and why marketing has completely changed in the digital age. It explains the reasoning behind how people interact with ads in the modern world and how to successfully add value to people's lives in order to build a relationship with potential customers that may eventually turn into a sale. This isn't a great book to read if you're looking for an in-depth understanding of the actual mechanics of Facebook advertising, but it does feel like a book that every modern day marketing professional should read at least once.
SEO 2017 is a pretty good overview of the ins and outs of Search Engine Optimization for the total beginner. I knew very little before reading this book, and felt like I came away with a good understanding of the space as well as the tools available for helping someone diagnose and fix common SEO problems. Some of this information can be found online rather than buying a book, but this book does caution that a lot of SEO information on random blogs is conflicting and out of date. If you're interested in learning more about SEO, consider picking up this book or reading articles on Moz, one of the de facto leaders in the space.